TANGO
Opera by Michał Dobrzyński
Guest performance of the Warsaw Chamber Opera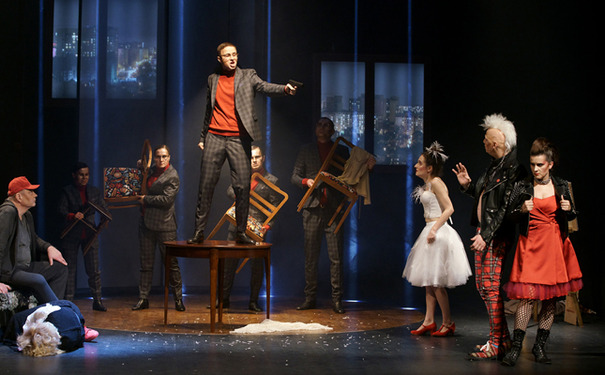 Opera in three acts by Michał Dobrzyński
Libretto by Michał Dobrzyński based on the drama by Sławomir Mrożek
World premiere on December 9, 2017 in the Warsaw Chamber Opera
October 22, 2018 in the Estonian National Opera
Approx running time 2 h 5 min, one intermission
With Estonian and English subtitles
Stage Director: Maciej Wojtyszko
Conductor: José Maria Florêncio
Set Designer: Katarzyna Gabrat-Szymańska
Costume Designer: Wiganna Papina
Choreography and Movement Stylist: Jarosław Staniek
Vocal Ensemble of Warsaw Chamber Opera
Orchestra of Warsaw Chamber Opera
"Tango" by Sławomir Mrożek, one of the pearls of the Polish drama, is in its ambiguity and timelessness a material perfect for an experiment with form and convention. Mrożek's plays depict the simplest situations in life, and make fun of our schematic behaviour, showing its absurdity. Michał Dobrzyński put this dramaturgically challenging and thought-provoking play into music and combined the contemporary composer's technique with an understanding of the specificity of the literary prototype.
Composer Michał Dobrzyński: "Mrożek tells us about the world in which we live in, about human nature and history. However, this is not a simple, unambiguous message. That is why no synopsis can give us an idea of what is contained in there. The works of Mrożek are in some way palimpsestic, referring to different conventions, but have their own language and a characteristic way of speaking about reality, that's the feature reserved only for the most brilliant authors. I can only say what inspired me: it is the excellent dramaturgic concept of the work, the legibility of the characters and the situations, the social contexts contained in the drama and, in my opinion, the astonishing topicality of the work. The question of what world we want to live in, what values are and what do they mean to us is always up to date. It is also a question about what freedom means for us and where its boundaries go, and for that questions Mrożek does not give a clear answer."
Mrożek's "Tango" has been staged twice in Estonia by Mati Unt: first in 1989 in Estonian Youth Theatre, where it quickly reached its 100th performance, and in 2002 in Estonian Drama Theatre for which the stage director provided his own partly versified text.
The Republic of Poland celebrates its 100th anniversary on November 11 and the current production reaches the stage of the Estonian National Opera within common celebration of the birthdays of both nations.
* Discounts are personal. When attending the performance, we kindly ask you to take a valid ISIC/ITIC card with you that entitles you to discounts on ticket prices.
Dates
Available seats: 117, Regular prices: 17-28 €, Discount prices: 8,50-25,20 €