BALLET "ROMEO AND JULIET"
Ballet by Sergey Prokofiev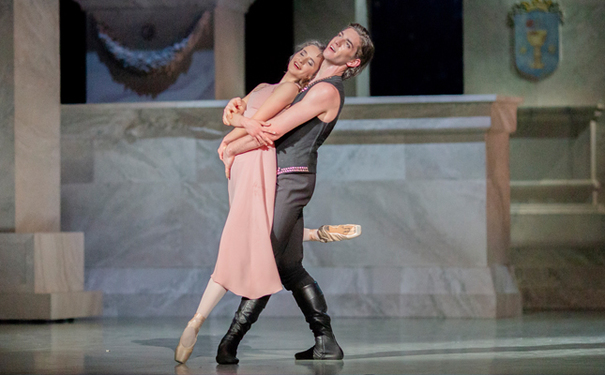 World premiere on December 30, 1938 in Mahen Theatre
Premiere at the Estonian National Opera on March 29, 2019
Approx. running time 2 h 15 min, one intermission
Choreographer and Stage Director: Toomas Edur
Conductors: Kaspar Mänd, Lauri Sirp, Vello Pähn
Designer: Iir Hermeliin
Lighting Desinger: Rasmus Rembel
The story of "Romeo and Juliet" is the greatest tragic love story of all time. Shakespeare's heartrending masterpiece is set to Prokofiev's music and expressed by Edur's innovative choreography.
The tragic story of the two lovers from feuding families combines love at first sight and forbidden passions – an intoxicating amalglam that leaves two young lovers at the mercy of powerful families and their own hearts.
The ballet's path to the stage was rocky. It was initially planned for production by the Kirov Ballet (now the Mariinsky Ballet) in 1935. However, even before Prokofiev had begun to write, the Kirov collaboration fell through as the composer had set out to rewrite the script, granting his ballet score a happy ending. Despite the fact that he returned to the original ending, the ballet production was cancelled. Prokofiev offered it instead to Moscow's Bolshoi Ballet, but its dancers dismissed the piece as impossible for dancing. With this second rejection, the composer converted the score into two orchestral suites, which were first performed in 1936 and 1937. The ballet itself finally reached the stage in 1938, but in Brno. The first Russian performance of "Romeo and Juliet" was given at the Kirov Theater on January 11, 1940. Despite so little hope for success, the ballet was well received and has been popular ever since.
Here's to my love!
O true apothecary,
Thy drugs are quick.
Thus with a kiss I die.
- Romeo
* Discounts are personal. When attending the performance, we kindly ask you to take a valid ISIC/ITIC card with you that entitles you to discounts on ticket prices.