THE GIRL OF THE GOLDEN WEST
Opera by Giacomo Puccini
According to government rules all adult theatre visitors must present a vaccination certificate, recovery certificate or a negative COVID-19 test certificate. See more at www.opera.ee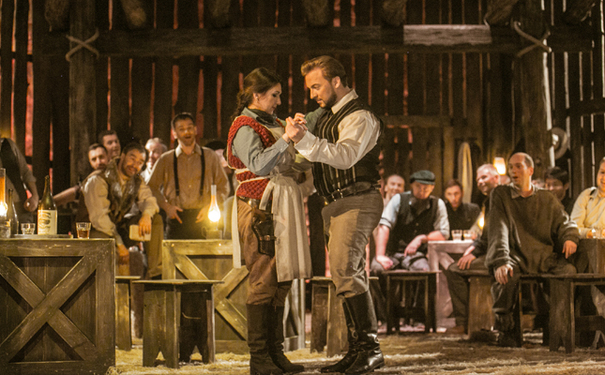 Libretto by Guelfo Civinini and Carlo Zangarini after David Belasco's eponymous play
World premiere on December 10, 1910 at the Metropolitan Opera
Premiere at the Estonian National Opera on September 21, 2018
Approx. running time 2 h 45 min, one intermission
Conductors: Arvo Volmer, Vello Pähn
Stage Director, Set and Lighting Designer: José Cura
Co-Set Designer and Costume Designer: Silvia Collazuol (Italy)
"The Girl of the Golden West" ("La fanciulla del West") followed "Madama Butterfly" (1904), which was also based on a Belasco play. The opera had a successful premiere at the Metropolitan Opera in 1910, starring the legendary Enrico Caruso and Emmy Destinn.
Puccini's gorgeous melodies and orchestral colours are set against the backdrop of a gold-mining frontier camp, where a poker-playing, pistol-carrying saloon owner Minnie finds herself in a love triangle with a handsome outlaw Dick Johnson alias José Ramirez and the sheriff Jack Rance, who is in hot pursuit of him. Minnie has to fight for her love and for the chance to start a new life with her love by her side.
In the wake of the first literary westerns and as cinema began to exploit the genre, Puccini gave opera its first ever western. "The Girl of the Golden West" influenced many composers of the 20th century, especially Andrew Lloyd Webber, whose "Phantom of the Opera" (1986) features an aria "Music of the Night" that copies Dick Johnson's Act I aria "Quello che tacete".
Puccini's musical vision of the American West is vividly brought to life by one of the greatest operatic names of our time, José Cura – an Argentinean tenor, conductor, director, scenographer known for his intense and original interpretations of opera characters. Seen and Heard International heralds Cura as "A a polymath, a Leonardo da Vinci of our time."
José Cura: "I sung my first Johnson/Ramirez in 1992 and have ever since been in love with this incredible opera. One can argue that it is not Puccini's best libretto or his more rounded-up piece of music, but how veritable is this opinion if the harmonic and melodic revolution with which "Fanciulla" has shocked the musical world of its time, has resulted in such a huge crowd of post-fanciulla composers, shameless imitators of what was — and sometimes still is —, so heavily criticised? I have always dreamt of bringing to the surface the many moments of emotional and psychological depth in this remarkable composition and Estonian National Opera has now given me this chance. I really look forward to a beautiful collaboration, which I hope will result in a common project for many other titles to come."
Copyright © Casa Ricordi, Milan, Italy
All rights reserved
* Discounts are personal. When attending the performance, we kindly ask you to take a valid ISIC/ITIC card with you that entitles you to discounts on ticket prices.
Dates
Available seats: 249, Regular prices: 17-28 €, Discount prices: 8,50-25,20 €
Available seats: 256, Regular prices: 4-28 €, Discount prices: 8,50-25,20 €
Available seats: 246, Regular prices: 17-28 €, Discount prices: 8,50-25,20 €