DER FLIEGENDE HOLLÄNDER
Romantic opera by Richard Wagner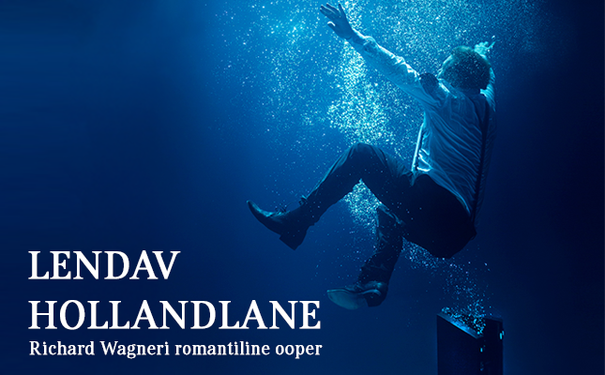 Romantic opera by Richard Wagner
Libretto by the composer, based on Heinrich Heine's "Aus den Memoiren des Herrn von Schnabelewopski"
World premiere on January 2, 1843 in Dresden Semperoper
Premiere at the Estonian National Opera on September 23, 2016
Conductors: Vello Pähn, Jüri Alperten, Kaspar Mänd, Lauri sirp
Stage Director: Pamela Recinella (Italy)
Designer: Yannis Thavoris (UK)
Lighting Designer: Matt Haskins (UK)
Choreographer: Daniel Kirspuu
Video: Apparati Effimeri (Italy)
Approx running time 2 h 40 min, one intermission
Sung in German with subtitles in Estonian and English
A stormy journey at sea from Riga to London and the "Aus den Memoiren des Herrn von Schnabelewopski" by Heinrich Heine inspired the young Wagner to write one of his most popular operas. "The Flying Dutchman" (Der fliegende Holländer) was Wagner's fourth opera and the one in which he came closer towards his own style and aspirations of writing a music drama. The young composer found a kindred spirit in the cursed and ever sailing Dutchman: a man who pursues to change the accustomed rules and who yearns for rest from the storms of life. Wagner's tempestuous and compelling story of The Flying Dutchman's captain cursed for eternity and seeking redemption through the unconditional love of a woman is clothed into a modern and visual setting by the stage director Pamela Recinella, designer Yannis Thavoris and video design company Apparati Effimeri.
Pamela Recinella: "The "Flying Dutchman", a modern high-flying businessman in the egotistic capitalist climate of the 1980s, is an alienated man. His personality is constantly nourished by the necessity to overreach himself, which is followed inevitably by his seeking redemption from the consequences of his transgressions. This affects his life dramatically as he both desires salvation but seeks to escape from his redeemer, as he cannott live a life without his vices. Without the vain pursuit of fame and fortune he faces boredom, ennui, a loss of meaning, ultimately even death. The opera's theme of endless and aimless sailing is the metaphor of his modern consumerist damnation. In the person of Senta and in her art he believes he perceives the only possibility of redemption. What Senta represents – a youthful, naive belief in art and creative expression – becomes trivialized and brutalized from a consumerist and capitalistic society. Is it possible for the Dutchman to protect the unique nature of Senta and change his vices into a passion for virtue? Are the capitalistic society and the emergent "culture industry", which he in his sickness represents, still able to find a way of redemption through art and authentic idealism? For Dutchman, it seems, any deceptive vice is more persuasive than artistic truth."
* Discounts are personal. When attending the performance, we kindly ask you to take a valid document (student card, ISIC/ITIC card or a senior citizen certificate issued in the Republic of Estonia) with you that entitles you to discounts on ticket prices.
Dates
Available seats: 498, Regular prices: 26-44 €, Discount prices: 13-39,60 €
Available seats: 565, Regular prices: 4-44 €, Discount prices: 13-39,60 €